Violet Crown Preschool's mission is to nuture the whole child – physically, emotionally, intellectually, and spiritually – in a loving, Christ-centered environment.
As a ministry of Violet Crown Church, we provide an atmosphere of love and acceptance where children can thrive. While we are a Christian program, VCP does not discriminate against students on the basis of race, color, religious, national, or ethnic heritage. Special needs children are accepted based on the preschool's ability to meet their specific individual requirements.
A relaxed neighborhood setting with low student-teacher ratios.
A supportive environment that teaches social and emotional skills.
A child-centered curriculum focused on learning through play.
All activities of the preschool are designed to be developmentally appropriate while meeting the needs of the individual child. Children's discovery of themselves and their world is very exciting. Learning to participate in group activities enables children to make the transition to kindergarten with less stress.
Above all, we believe that PLAY is children's work.
What does it look like when children are learning? Play! Play is a child's work.
Our preschool program follows a play-based curriculum. It focuses on the interests, needs and abilities of each child. We offer an educational experience that provides opportunities for children to:
become aware that their own feelings and emotions are natural and acceptable
learn to express themselves in constructive ways
grow in their understanding of themselves and others by learning to play cooperatively
be active learners by exploring and organizing their world
express curiosity and wonder at all the varied and interesting aspects of life and nature
explore new books, materials, songs and activities
try out new roles through dramatic play
build a strong background of concrete experiences for language and cognitive development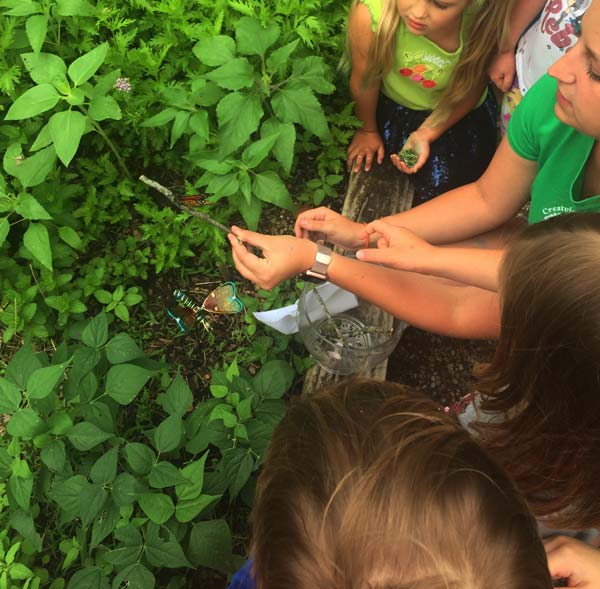 What Is a Play-Based Curriculum?*
It is a carefully planned environment that is both stimulating and exciting. Our teachers support children as they explore their environment, talk with them, and extend their play when required. Simply put, a play-based curriculum is a fun place to play, where children can learn without knowing learning is taking place.
A play-based curriculum is developmentally appropriate for all children;. Because this type of curriculum meets children where they are, children are not expected to fit within the lines of a worksheet.
A play-based curriculum can be accurately described as "observation based" or child-centered. These terms make sense because they recognize that children learn best when they are allowed to discover what they want to learn.
A play-based curriculum is most successful in an environment that has been arranged into learning/interest centers which provide opportunities to explore varied experiences which have been chosen to enhance the child's development. Our teachers observe, set goals, plan, implement, observe, set new goals and repeat the process to provide a play environment that supports learning.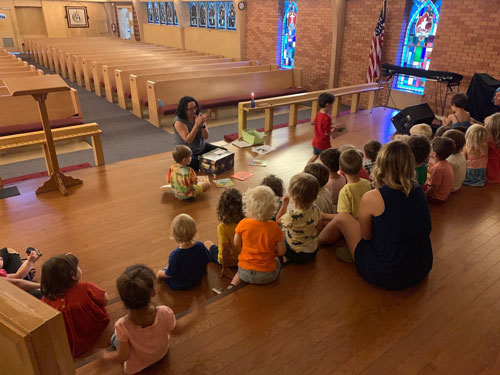 Chapel Time
Each week, the children attend a brief chapel time. While only 10-15 minutes, chapel is a meaningful time when all the children can get together to sing songs and hear stories about God, about God's love for them and about God's desire for them to be kind and caring friends. Chapel consists of singing, a story or activity, and an "echo" prayer. Children often go home singing the chapel tunes. The stories are told in a way that is developmentally appropriate, using a variety of presentation methods such as a flannel board, story props, and puppets. Parents are always welcome to attend.
Dance Discovery
Once a week, our children participate in a creative movement/dance program conducted by Dance Discovery. Dance Discovery uses professional instructors who are trained to work with young children. All of their teachers are professional/degreed instructors in dance, drama, or human development, certified in the Dance Discovery curriculum. Dance Discovery is home to the Storytime dance curriculum that is specially designed for young children. At Dance Discovery, the creative spirit of young dancers is nourished, allowing them to discover the wonders of dance class.
*definition of play-based curriculum from Miriam Brookfield's article "How to Keep Children at the Center of Your Program.
Andrea Roberts, Preschool Director
I came to VCP in January, 2011 and took over teaching the Sunflowers class. I have a teaching certificate in Elementary Education from UT Austin and I taught a PPCD class (Preschool Program for Children with Disabilities) in AISD for 5 years before I had my son and daughter. After teaching the Sunflowers Class for nearly 8 years, I became the director in 2018. I am deeply committed to ensuring that each child at VCP learns in a nurturing and play-based environment. In my spare time, I love music, hiking, animals, reading, and watching movies.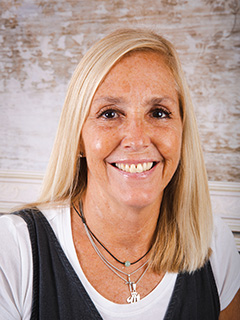 Mary Davis Raad, Teacher of the Toddlers class (Monkeys)
I went to the University of Texas RGV. I studied child developmental psychology. I have worked in child care and preschool for about 15-17 years. I was previously with Primrose Schools. I have been married for 28 years and have 4 beautiful children and 2 amazing grand daughters. I love hiking on the green belt and riding my bicycle.
Erica Barton, Teacher of the 2s class (Elephants)
I joined the Violet Crown Preschool family in 2018 as a parent and fell in love with this special and sweet little school. While attending the University of North Texas, I was a two-year-old teacher at Flow Memorial Hospital in Denton. I am now a mother of two, and my children were the inspiration which led me to pick up where I left off as an early childhood educator. Before coming to VCP, I was a drum instructor at Girls Rock Camp Austin. I believe music is a universal language and I love using songs and rhymes to teach and connect with children. Sensory play and process art are some of my favorite things to do with young children because they foster development in many ways while giving children tools to be creative and inspire their imagination. One of my main goals as a teacher (and a mom) is to listen and encourage children to use their voices. I believe children learn best and thrive when they feel seen and are treated with respect and empathy.
Alicia Fiedler, Teacher of the 3s class (Raccoons)
I attended the University of Texas at Austin as a Fine Arts major, but I came to early childhood education after marrying and having my own two children, who are preschool alumni. I feel passionately about fostering the natural brain development of children through play-based learning and I believe in encouraging independence and a growth mindset. I also love sharing process-based art focused on experience rather than product. I am a face painter and henna artist when I'm not at school – and sometimes when I am! I enjoy reading, knitting, watching movies with my family and festival camping.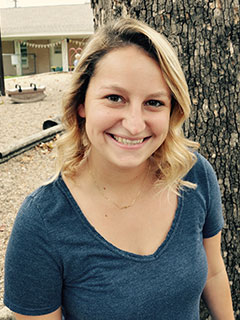 Inez Hill, Teacher of the 4s class (Sunflowers)
I joined the VCP family in 2018 as the Sunflowers teacher. I've been working in early childhood education since graduating from Texas Christian University in 2017. I have a Bachelor of Science in Psychology and a minor in Child Development. My love of working with young children started when I was a camp counselor during my summers off from TCU. My goal is to provide the best classroom environment for children to think creatively, solve problems independently, and respect themselves and others. Throughout the school year, my students prepare for kindergarten through independent play and fun activities designed to develop their skills. I feel so lucky that I get to help create the magic of childhood every day at VCP!